Why travel ordinary, when you can travel extraordinary in a "007-style"?
We've curated the best of the big ticket covetable items that are splurge-worthy – and become splurge-able when holiday sales hit and our dollars stretch farther.
This Black Friday nab these Black Ops type steals that merge style with top covert mission performance.
Ballistic briefcases and carry-ons, duffels for double lives, watches with secret mission skills and blazers with 10 hidden pockets are just a few handy hookups in this year's guide.
You'll find picks loaded with stealthy, covert features even hidden quick draw-enabled jackets and a martini shaken not stirred ready kit disguised as a shaving bag.
We've got the ultimate secret weapon for maximum mission performance that will completely surprise you….and much more.
Gift up to gear up a loved one. Nab these killer deals for MVP gift giving status. You're going to find it hard to resist gift-giving yourself.
Here are the top 8 Black Friday, Black Op steals for 72 hours of travel with 007 style and maximum performance.
MAXIMUM PERFORMANCE, BEDGEAR PILLOW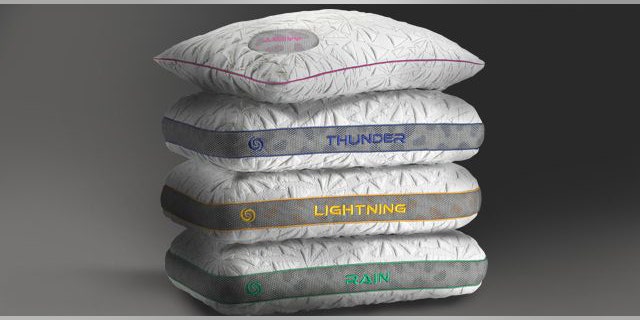 Gift a loved one (or yourself) the secret to maximum performance – state-of-the-art gear for sleep.
Sleep is vital to maximizing your day, whether executing a "mission impossible" or enjoying a weekend with the family. Elite tactical professionals take sleep as seriously as fitness.
BedGear performance bedding has revolutionized sleep gear. They deliver a personalized solution addressing key factors like sleep position and body type so you are comfortable and the optimum temperature throughout the night.
ARMY SETS SIGHTS ON NEW SNIPER CAMOUFLAGE
Just answer a series of questions and you're equipped with a pillow that will transform sleep quality and deliver maximum results.
The ultra-advanced designs and materials are driven by cutting-edge scientific research. The BedGear system relentlessly protects maximum next day performance by safeguarding best quality rest. They deploy heaps of advances such as air flow control and moisture wicking to ensure optimum sleep.
For folks naturally hot when they sleep, the Cool-to-Touch pillows, for example, use a special advanced heat-deflecting VerTex fabric to lower temps to the ideal level for maximum restful sleep.
BedGear pillows entirely customized to the sleeper are available starting at $119. The personalized, interlocking system also includes best-in-class sheets, blankets, mattresses and protectors for maximum next day performance.
COMPLETE MISSION FUEL KIT, BLACK RIFLE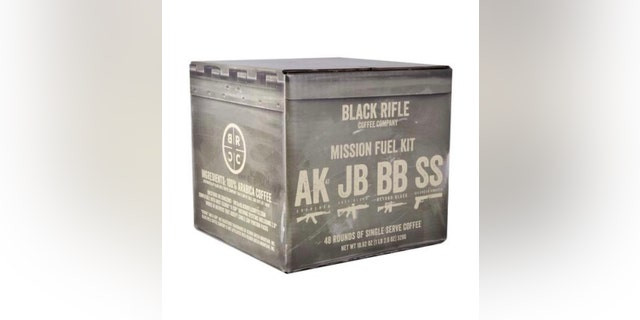 Start off your morning right with a mug of best-in-class rocket fuel. Tailor your cup of joe to the mission you're facing. A dose of Black Rifle will set you up for the day. The Complete Mission Fuel Kit is a fantastic gift giving you a number of Black Rifle Coffee flavor profiles options.
Black Rifle has taken the elite tactical professional world – and the nation- by storm. Disguised beneath fun monikers related to covert missions such as Just Black, Silencer Smooth, AK-47, and Beyond Black … this is some serious coffee.
Special Operations forces veteran Evan Hafer founded the company and brought in more outstanding SOF vets. The very same commitment to the highest excellence that earned them places in the most elite military units has been applied to coffee bean selection and process. In every sip, the exceptional quality shines through.
Complete Mission Fuel Kit is available for $48.
BALLISTIC NYLON DRYDEN BRIEFCASE + CARRY-ON BAG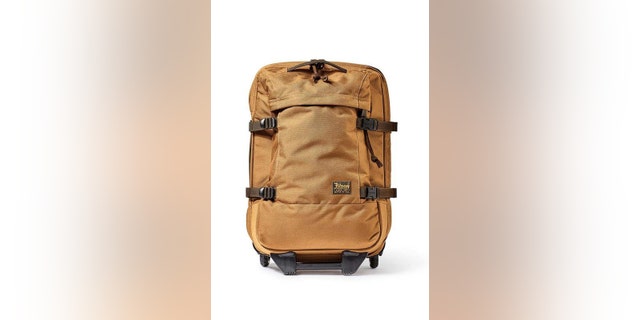 You've primed for max performance with your next level sleep thanks to a futuristic pillow combined with a boost of delicious, high-speed coffee … now you need the best tools for travel.
Who wouldn't want a ballistic briefcase or carry-on?
EXCITING NEW MEDICAL 'SILVER BULLETS' WILL SAVE MILITARY LIVES
Filson has been a top outfitter for America's bold pioneers and brave explorers for more than 200 years. American achievers relied on them during the Gold Rush and still rely on them to this day for outstanding gear and apparel that will last a lifetime of adventures.
The sleek style of the new Drydens will impress whether in high-speed skyscraper meetings or low-key ranch negotiations.
Ballistic nylon blends in with the timeless style and smart design. The Drydens are designed to take the beatings of a rugged lifestyle, but still, perform and look good. Originally created to withstand battle back in WWII, this material is made tough, to stop tough.
The briefcase is available for $175 and the carry-on for $295.
PODCAST: ARMY RANGERS V UNUSUAL DEADLY THREATS – KILLER BEES, THUNDERBOLTS + MORE 
THULE SUBTERRA DUFFEL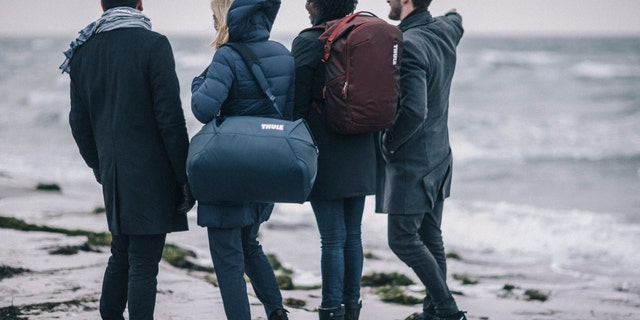 The Thule Subterra Duffel 60L is the ideal duffel choice for lives with multiple demands. On this 72-hour mission (or family trip), you may want to hit the gym or just toss a duffel in a truck rather than use a suitcase.
In two hidden, expandable compartments you can stick in muddy boots from hunting bad guys or big game that day and keep the rest of your stuff and change of clothes muck-free. Ordinarily, duffels can be a nuisance for jumbling things – not this one. Special design features will keep those clean clothes locked down and wrinkle-free.
Need a rapid quick change? For quick access to the contents, the clever design yields your stuff with a simple pull of the side handle.
There's even a secret access point hidden in a storage pocket that gives you rapid reach to the main compartment.
Available for $159.95 and a smaller 45L version is available as well.
QUICK DRAW JACKET, 5.11 PENINSULA INSULATOR PACKABLE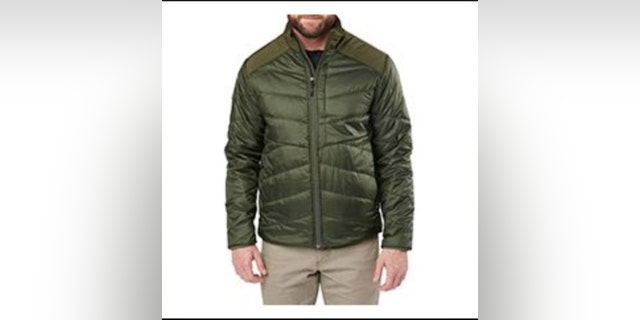 On-trend style, warm and comfy without bulk and weight, the 5.11 Tactical Peninsula Insulator Jacket is the perfect solution for travel to places where temperatures vary.
Ultra-packable, you can quickly squash these up into a little ball and stuff them in a small, removable sack that is tucked inside one of the hand pockets.
ARMY SETS SIGHTS ON BIGGER, BOLDER, HARDER HITTING BULLETS
For those permitted to carry weapons in a concealed fashion, the design incorporates concealed "RAPIDraw."
There's a concealed pocket for keeping things like your wallet or keys safe from pickpockets.
The Peninsula series also provides vest and shirt jacket options. Available in Moss, Sequoia, Black and Royal Blue, the Peninsula Insulator jacket can be nabbed for $97.49.
PODCAST: SECRET TO KEEPING KIDS AND SCHOOLS SAFE W/ A US PRESIDENT PROTECTION EXPERT
EXTREME MISSIONS WATCH, BELL & ROSS DIVER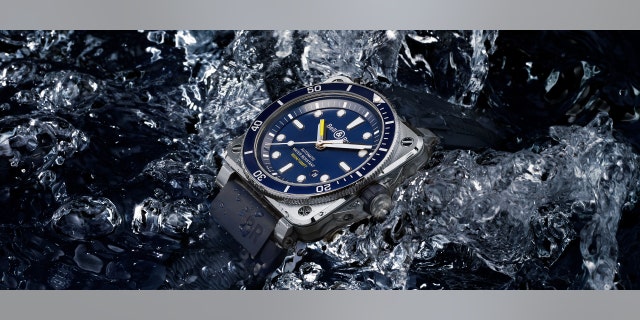 Bell & Ross are the ultimate in watches for people who tackle extreme situations of all kinds where minutes can mean the difference between life and death.
When danger strikes, it is always a good idea to seek out someone wearing one of these iconic square-faced timepieces and stick with them.
Founded by a dream team of watch designers and aeronautical experts, Bell & Ross create best-in-class extraordinary timepieces to wear full spectrum over a 72-hour 007 type weekend.
Need to withstand extreme temperatures and depths, violent accelerations or dangerous pressures? But also blend in at a black-tie ball with men wearing 100k plus watches?  Bell & Ross is the solution.
BEE-SIZED BOTS SET TO DOMINATE FUTURE BATTLES FOR CITIES
Pure lines and timeless style combined with maximum mission-proofing like anti-shock, anti-magnetic protection and readability in the dark.
For a stealthy underwater enemy turf insertion or a vacation scuba diving, the new BR03-92 Diver Blue and BR03-92 Diver Bronze are excellent choices.
The crystal is sapphire with anti-reflective coating and the dial is black with metal applique skeleton Superluminova -filled numerals and indices. The straps are woven black rubber with ultra-resilient black synthetic fabric and a satin-polished steel buckle.
New BR03-92 Diver Blue and BR03-92 Diver Bronze retail for $3,700.
007-STYLE ALL TERRAIN TROUSERS, FJALLRAVEN KEB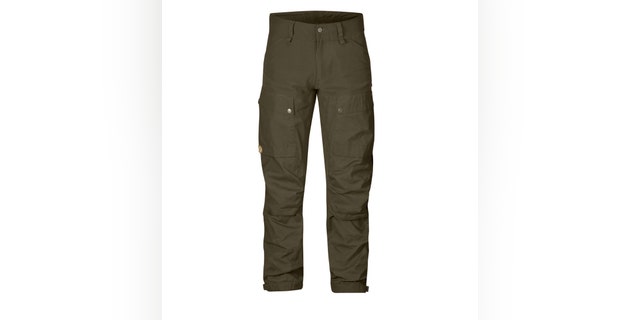 Keb trousers exude 007 style while conducting daily errands or enjoying dinner with the wife, but are also built for action like scaling, perilous rock faces.
It is very difficult to find trousers that can go from backcountry to date night – let alone trousers that can withstand everything a rugged man throws at it and arrive home still looking as good as they left.
The solution is the Keb trousers from Fjallraven. They have a flattering, optimized fit while loaded with details for maximum comfort and performance. There are many thoughtful details like discreet zippers along the calf to help keep cool.
Regular price $225, but you can nab them on sale at $180.
TRAVEL BAR HIDDEN IN A SHAVING KIT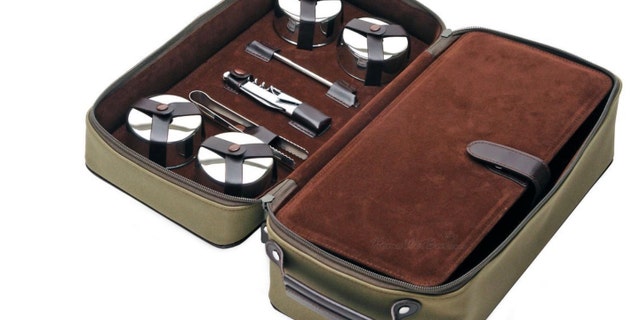 Looks like a manly shaving bag, acts like a portable bar set armed and ready to mix the perfect martini.
Disguised as a Dopp kit, it opens to reveal party gear. There's a stainless steel wine corkscrew, ice tongs, stirring stick, and four collapsible stainless steel cocktail glasses. And there's a compartment to conceal a 750ml bottle of your favorite poison.
Available from Home Wet Bar, it retails for $202, but can be snapped up in sales for $159.95.
BLUFFWORKS GRAMERCY BLAZER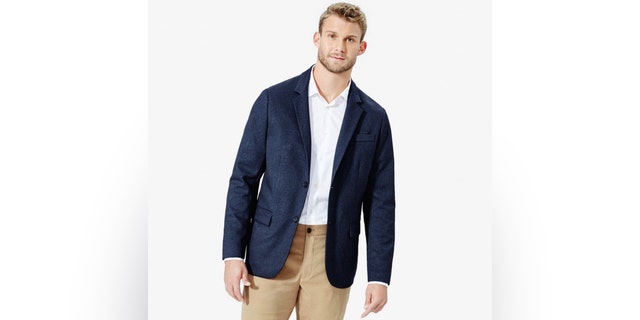 Blazers are always handy for rapidly upgrading an outfit. The Bluffworks Gramercy version also provides the advantage of 10 pockets to conceal vital things and stash all the essentials safely on your person.
Fall-off proof buttons, wrinkle-defying material, machine washable and so packable that you can smush it up and leave it squashed in a suitcase – but days later pull it out and rock it wrinkle free…just a few of the many features that make it a great fit for a vacation weekend or 007 style shenanigans.
On sale for $220.
https://www.foxnews.com/tech/8-top-gifts-for-007-worthy-adventures