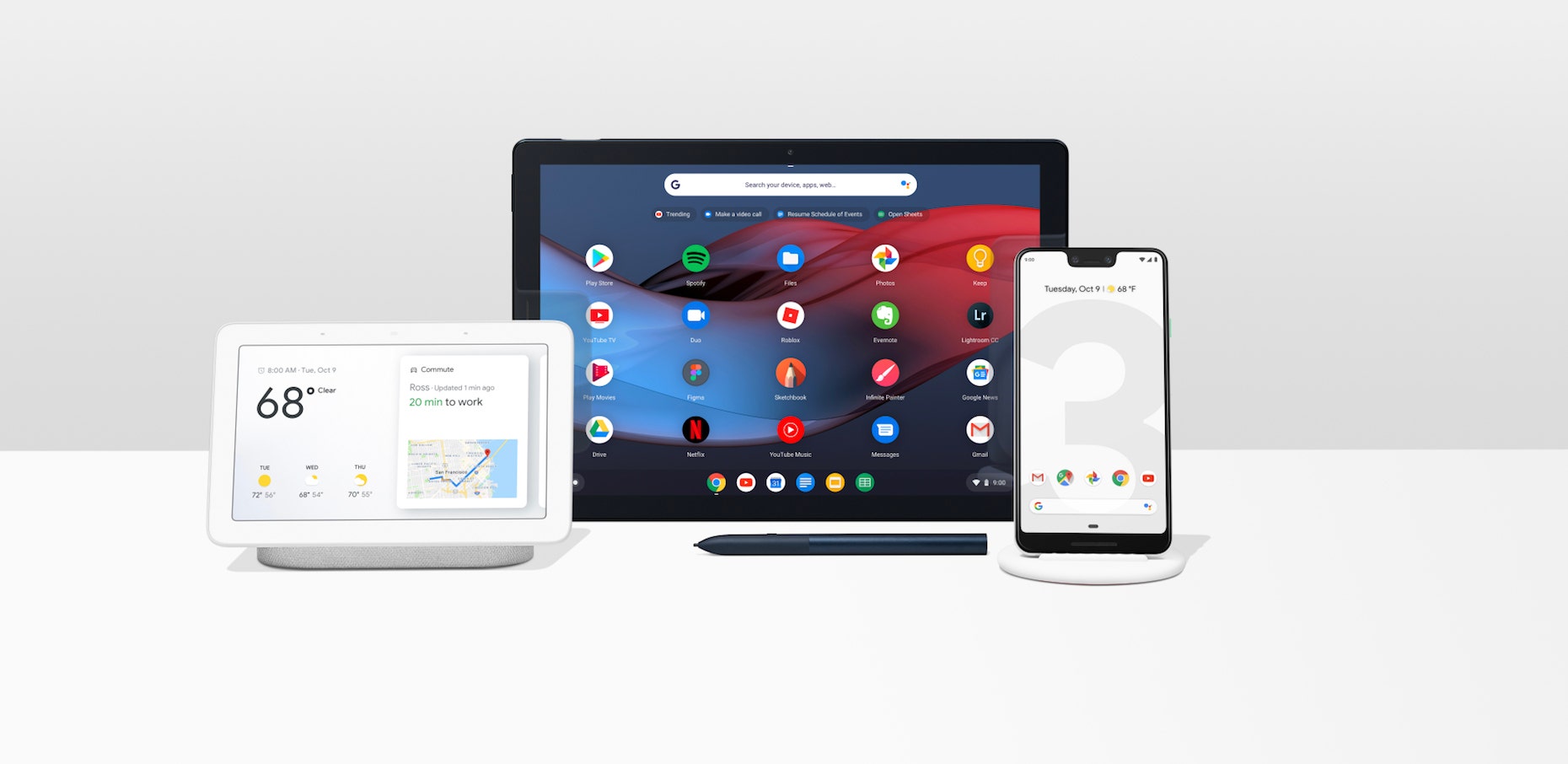 After months of rumors and high-profile releases from other tech giants, Google finally took the wraps off its new generation of gadgets, hoping to take on Apple and others as the holidays get closer.  
The big reveal took place earlier this week, with most of the attention going to Google's new smartphone, the Pixel 3. It's the latest edition of what has been a longtime effort from Google to become a major player in the smartphone market – an effort that's met with mixed results in the past. But the company is betting big on Pixel 3, an update of last year's line with a glass front and back – and a significantly improved screen. That screen also has the ability to deliver motion-capture animation via a new app and boasts stronger graphics support for gaming.
GOOGLE FIRES AT APPLE WITH PIXEL 3 PHONE, OTHER DEVICES
The XL is roughly the same only – you guessed it – bigger. It also features what has now become a familiar notch at the top of the edge-to-edge display, where the earpiece and camera are located. Both phones are faster than previous models, have improved cameras, and – perhaps most significant – an improved battery life that Google claims is the best in the business.
Need some accessories to go along with that phone? Give the Pixel Stand a shot. It's Google's latest display gadget, capable of holding your phone upright while it charges wirelessly. It can also display photos, play videos, and connect you with Google's personal assistant.
FOX ON TECH: MICROSOFT'S BIG ANNOUNCEMENT
And along with the phones comes a new tablet, called the Pixel Slate. Google executives say it was designed to compete directly with the Apple iPad and Microsoft Surface, but it's not clear yet what sets it apart. Battery life and storage capability seem to be comparable with Apple products. And like the Surface, you can use it as a tablet, or attach a mouse and keyboard to convert it into a laptop.
One device we weren't expecting to see is Google's newest home assistant, the Home Hub, designed to work with Google smart home products and other devices. It features a seven-inch display so you can watch videos and interact with Google's Virtual Assistant to complete a number of tasks, from locking the doors and turning on the lights to alerting police to possible home invaders.
FOX ON TECH: WHAT SHOULD YOU DO WITH YOUR OLD IPHONE?
All the new Google devices are expected to ship before the end of the month, so they should be on shelves just in time for the busy holiday shopping season.  
https://www.foxnews.com/tech/fox-on-tech-googles-new-gadgets