Amazon founder and Washington Post owner Jeff Bezos wrote a scathing letter to American Media Inc. (AMI), the parent company of the National Enquirer, on Thursday, accusing the tabloid of threatening to publish "intimate photos" of him, including a "below the belt selfie," and potentially compromising photos of his reported girlfriend, former TV anchor Lauren Sanchez, if he did not end an investigation into the company and its alleged political ties.
The National Enquirer published a story last month that included lurid texts between Bezos and Sanchez. Since then, private investigators for the billionaire have been looking into how the Enquirer got the texts. That set off, according to Bezos, a threat to back off or risk having the personal photos exposed.
Among them, he claims: a bathroom selfie in which he's "wearing nothing but a white towel," "a full-length body selfie of Mr. Bezos wearing just a pair of tight black boxer-briefs or trunks," and a photo of Sanchez "smoking a cigar," possibly in a suggestive way.
Bezos' letter to the media company was published Thursday on Medium.com. He also published correspondence between AMI and lawyers for his investigator, Gavin de Becker.
JEFF BEZOS' REPORTED NEW GIRLFRIEND, LAUREN SANCHEZ, HAS LONG LIST OF HOLLYWOOD CREDITS
"In the AMI letters I'm making public, you will see the precise details of their extortionate proposal," Bezos wrote. "They will publish the personal photos unless Gavin de Becker and I make the specific false public statement to the press that we 'have no knowledge or basis for suggesting that AMI's coverage was politically motivated or influenced by political forces.'
"If we do not agree to affirmatively publicize that specific lie, they say they'll publish the photos, and quickly," he continued. "And there's an associated threat: They'll keep the photos on hand and publish them in the future if we ever deviate from that lie."
"Be assured," Bezos continued, "no real journalists ever propose anything like what is happening here: I will not report embarrassing information about you if you do X for me. And if you don't do X quickly, I will report the embarrassing information."
One email Bezos published, apparently from an AMI representative, threatened to publish nine images in addition to the "below the belt selfie — otherwise colloquially known as a 'd–k pick.'"
"These communications cement AMI's long-earned reputation for weaponizing journalistic privileges, hiding behind important protections, and ignoring the tenets and purpose of true journalism," Bezos concluded. "Of course I don't want personal photos published, but I also won't participate in their well-known practice of blackmail, political favors, political attacks, and corruption. I prefer to stand up, roll this log over, and see what crawls out."
PROSECUTORS CUT DEAL WITH ENQUIRER PARENT COMPANY OVER HUSH $$ TO MODEL CLAIMING TRUMP AFFAIR
A Fox News request for comment from AMI was not immediately returned.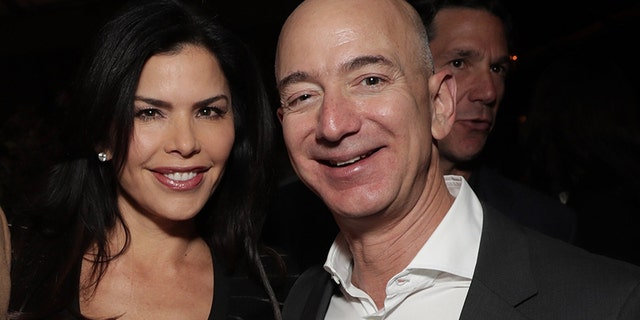 Last month, the Enquirer reported that Bezos sent "sleazy text messages and gushing love notes" to Sanchez, months before Bezos announced he was splitting up with his wife, MacKenzie. Reporters for the Enquirer followed Bezos and Sanchez "across five states and 40,000 miles" and "tailed them in private jets, swanky limos, helicopter rides, romantic hikes, five-star hotel hideaways, intimate dinner dates and 'quality time' in hidden love nests," the tabloid said in a story about the relationship.
CLICK HERE TO GET THE FOX NEWS APP
AMI has been in the political spotlight often during the Trump administration.
In December, federal prosecutors announced that they wouldn't be pursuing charges against the company for spending $150,000 during the 2016 election to buy, then conceal, ex-Playboy model Karen McDougal's story claiming a past affair with President Trump.
Fox News' Alex Pappas and The Associated Press contributed to this report.
https://www.foxnews.com/tech/jeff-bezos-national-enquirers-parent-company-threatened-to-publish-intimate-photos-of-me